Ancestral Japan
on Le Laperouse
Ancestral Japan
PONANT takes you to the crossroads of three cultures and religions during an exceptional sea voyage between the Philippines, Taïwan and Japan.
Aboard Le Lapérouse from Manila to Osaka, this 13-day cruise will have you discovering stunning scenery, places which have significant history as well as traditional villages and crafts.
From Manila, a
...
Awaken Your Sense of Wonder – with PONANT Cultural Cruises & Expeditions
The world's only French-flagged cruise line and top cruise line worldwide in polar expeditions, PONANT Cultural Cruises & Expeditions currently has five distinctive and intimate vessels, embodying the essence of a private luxury yacht: the three-masted LE PONANT, an elegant sailing yacht accommodating 64 guests and four identically designed 'sister ships' with no more than 264-guests LE BORÉAL, L
...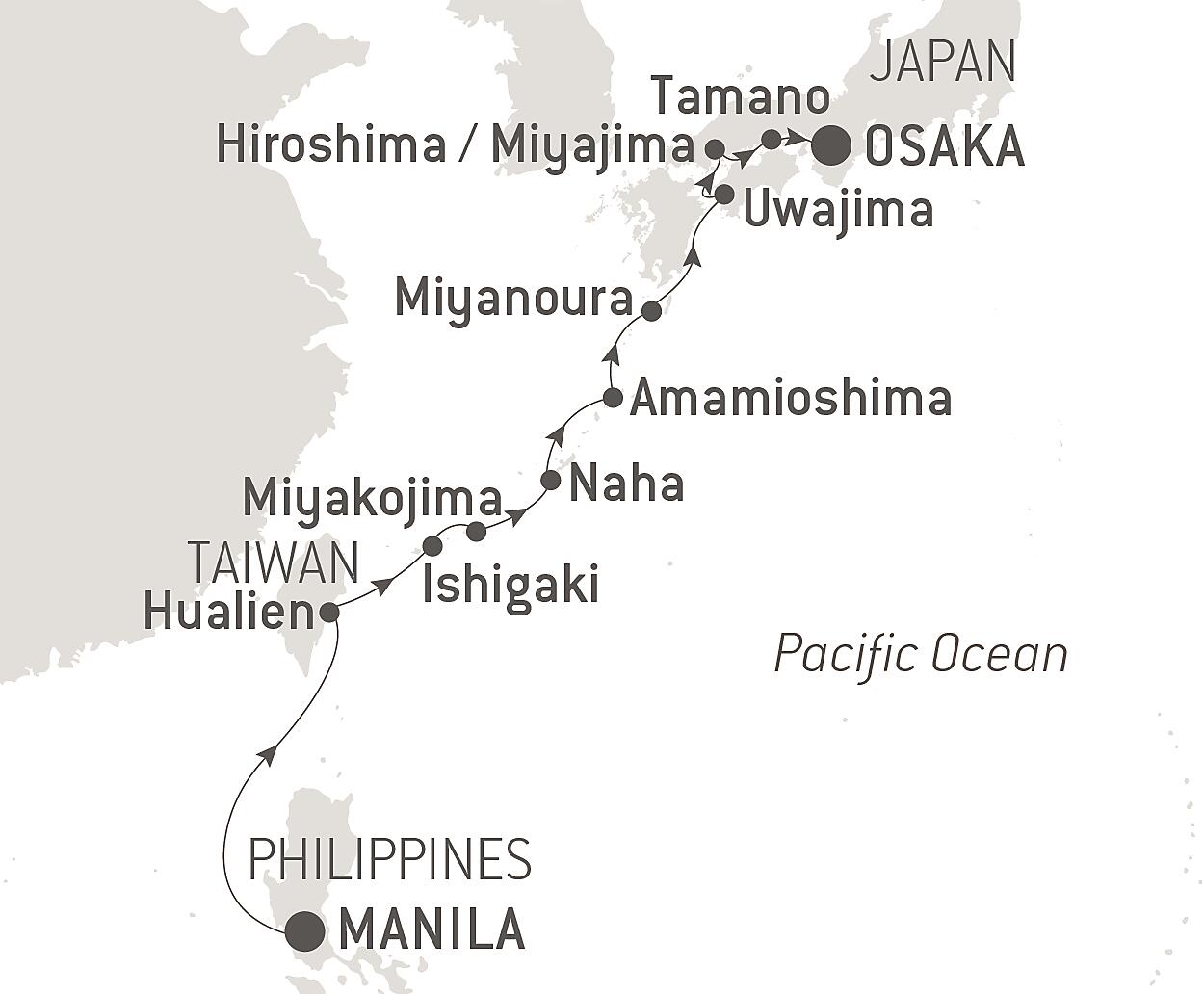 | Day | Port | Arrive | Depart |
| --- | --- | --- | --- |
| 1 | Manila | | 6:30 PM |
| 2 | At Sea | | |
| 3 | At Sea | | |
| 4 | Hualien | 6:30 AM | 4:00 PM |
| 5 | Ishigaki | 8:00 AM | 11:00 PM |
| 6 | Miyakojima | 7:00 AM | 4:00 PM |
| 7 | Naha, Okinawa | 7:30 AM | 8:00 PM |
| 8 | Amamioshima | 11:00 AM | 7:00 PM |
| 9 | Miyanoura, Yakushima | 7:00 AM | 6:30 PM |
| 10 | Uwajima | 12:00 PM | 8:00 PM |
| 11 | Hiroshima | 6:00 AM | 12:30 AM |
| 11 | Miyajima Island | 2:00 PM | 8:00 PM |
| 12 | Tamano | 6:00 AM | 10:00 PM |
| 13 | Osaka | 6:30 AM | |